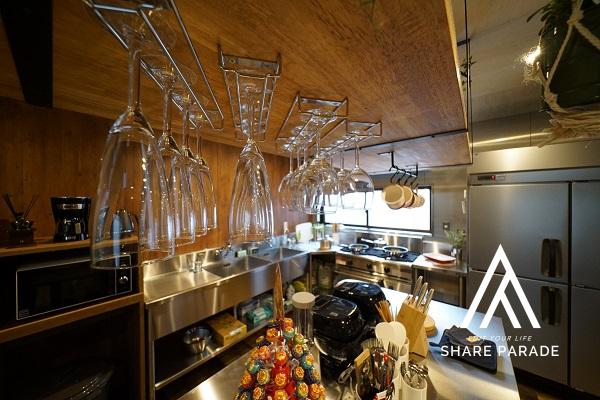 *above image for illustration purposes only
Do you know a certain reality TV show which has sparked a trend of shared house in Japan? In that TV program, they often held an event such as a birthday party and a farewell party. These kinds of event are usually held in a reality shared house life.

I am going to introduce some of them in this chapter.
KINDS OF EVENT
There are various kinds of event. Cherry blossom viewing, BBQ, Christmas party, cooking class, work shop and so on.
Cherry blossom viewing
Residents usually get together and go to the park close by the house to enjoy watching cherry blossom. This is because cherry blossom is one of the most representative thing of spring in japan. This event is the very Japanese culture, so people who comes from other country enjoy this event every year.
BBQ
Large-scale house usually has a yard, they enjoy BBQ a few times in a summer. They arranged a kitchen stuffs for BBQ and place for it, which makes it easy to have a BBQ party by themselves compared with living alone. Moreover, some of house has a pool. Residents can fully enjoy summer events in a house.
Halloween
It's getting famous in japan in these days, people who lives in a shared house hold a Halloween party as well. They dress up in disguise and go to city, and decorate house with Halloween stuffs and have a party. If they have roomy who comes from western country, it is possible to enjoy a real Halloween party.
Christmas
In Japan, people usually hang out their partner on Christmas. But in a shared house, they usually throw a Christmas party. You don't spend a lonely Christmas day.
HOW TO HAVE AN EVENT
As you know, they regularly have several kinds of event. But how do they have an event? There are 2 types of way below.

Planned by Management Company or owner.
Planned by residents

The event planned by Management Company or owner is what I introduced, opening party and anniversary party. Residents usually have an event for drinking together and playing sports. Residents contact each other in usual, which makes it easy to get together for an event. Which event would you like to enjoy there??
EVENT Q&A
Q. Do I need to join every party??
A. Not necessary. Depends on your mind. But it's going to be a chance to get to know people who haven't met ever.
Q. Can I invite my friends??
A. Depends on the event. It's usually possible to invite your friends if the event is held out of house. And most of house allows residents to invite their friends even usually not allowed.
Q. How often do they have an event??
A. Depends on the house, but usually held once a month. This is because people who lives in a shared house work on weekdays.
Q. Where do they have an event??
A. In a house. This is because there is a large living room and easy to join for residents.
Q. Is it a difficult to join an event if I have work??
A. Not at all. An event is usually held on weekends for people who is working on weekdays.
Q. Do I need to pay for it??
A. Depends on the event. If the event is planned by a management company, they spend money from common service fee, or subsidies in many case. If it's not free, it costs 500 to 1,000 JPY per person.