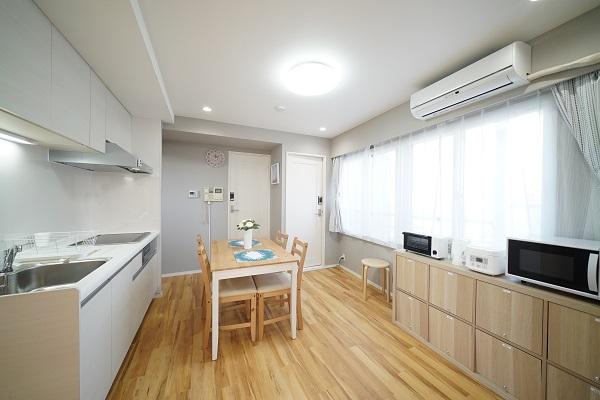 This image isn't related to this article.
A lot of people know that furniture and home electronic appliances are equipped in a shared house. However, you need not only them but also other many stuffs to live.

When you live by yourself, you just buy your daily necessities. However, a shared house is to live with another person, so you have to share it.
Daily Necessities in a Shared House
You have to pay not only rent fee but also management fee. When you rent an apartment, you always pay 3,000 JPY to 10,000 JPY as association dues without rent fee to keep a common place such as an elevator and an entrance clean.
Management fee of a shared house includes not only such a fee but also daily necessities, water and internet, so you pay 10,000 JPY to 15,000 JPY for each months.

Daily necessities in management fee are a toilet paper, a tissue paper, detergent, a sponge, hand soap and a trash bag. Moreover, seasoning such as soy source is included in some shared houses.

These supplies are not absolutely equipped. For example, a shared house that has only a vacuum cleaner. Therefore, you should check it out before moving.
A Stuff You Should Bring to a Shared House
Furniture, home electronic appliances and daily necessities are equipped in a shared house. So, What should we bring?

We are going to introduce what you should bring.


1: Slippers
When you live by yourself, you don't have to have it. However, it is necessary stuff in a shared house because there is a long hall and a large lounge, so you have to walk a little bit to go anywhere. It is very cold in winter and your foots get dirty.

2: Hair dryer
Many shared house don't have a hair dryer, so you have to bring it. In some shared houses, there is a dryer, but sometimes you cannot take it to your room. It is used everyday, so it is good that you bring your own dryer.

3: Loungewear
When you go to a bathroom, you have to go through common place, so you may meet a housemate. When you live by yourself, you don't have to wear loungewear, but it is not in a shared house. Therefore, if you have it, it is very good to live in a shared house.

4: Tissue paper
As we explained, this is included in management fee. However, you have to buy it for your room.

5: Laundry detergent
Dish soap is included in management fee, but you have to buy laundry detergent and softener by yourself.

6: Shampoo, Conditioner and body soap You have to buy it.
Better Supplies You Have to Bring
Although you can live with stuffs a managing company provides, we are going to introduce stuffs you should have to lead a better life.


1: Blanket
Many shared houses have a bed, but it has only a comforter. Therefore, it is cold in winter, so you should have an extra blanket.

2: Iron
There is a few shared house that has an iron. When you wear a suit and a uniform everyday, you should have it.

3: Kettle
There is a kettle in common place, but there is not in your private room. When you want to drink a coffee and eat a cup noodle in your room, it is convenient to have a kettle in your room.

4: Bath mat
Some people don't like to share a bath mat. Moreover, sometimes it is exchanged once a week, so you should have own bath mat to live comfortably.

5: Adhesive roller cleaner
There is a vacuum cleaner in a shared house, but if you want to clean your room frequently, you should have an adhesive roller cleaner. It is easier to clean your room.


When you go to see a shared house, you should check these points.